Overview
The Bandage is a consumable which, when used, will refill 15% health.
However, this item will only heal you up to 75% health at most and will not function if you are at 75% or higher health and try to use it
It can stack up to 6.
It is a Common item.
It comes in stacks of 1.
It has a quicker use time than a Health Kit but heals less.
Media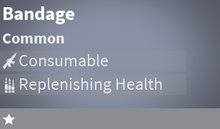 Consumables
Common

Bandage

Uncommon
Rare
Epic
Legendary
Mythic
Community content is available under
CC-BY-SA
unless otherwise noted.