Overview
First FAA (Free Advertising Agents = Content Creators) tournament, that was held on 23rd of March 2019, is an officially organized tournament by the heads of Island Royale discord server (LordJurrd, Sean and a few more).
Facts
This (first) FAA tournament is a test subject to see the reaction of the community. Based on it, a decision will be made, whether to host other tournaments of this kind or not.
The tournament was streamed by all Free Advertising Agents who participated, but also JustSeanC (Sean, the head moderator of Island Royale discord server), GunnerTDog , LeSteelio . These three were in a discord voice chat, doing the job of commentators of a tournament, as they were not participating. However, VladimVladim , who initially participated in the tournament, also joined up their commentator call after not passing into the finals with his squad, named KONSTRUKT, due to the lack of points.
12 squads total (48 players) were participating, most of them are people with the FAA role, who composed their own squad, but there were also a few invitations sent to the leaders of the IRCL (Island Royale Competitive League) as they are a huge part of the competitive community of Island Royale
Rules
The rules for this tournament were:
No FPS unlockers (/ any exploiting)
No glitching
No stream sniping or ghosting
No RPG (was unbanned after 1st round)
Score:
1 point per kill
3 points per win
Qualifiers:
12 squads are divided in two groups (group A and group B, 6 teams in each)
There is two rounds of each of the groups fighting
After the two rounds 3 teams with the most points from each group go into the finals
Finals:
6 squads from groups A and B combined fight in 3 rounds, the score rules here are the same as in the qualifiers
Group with the most points after these 3 rounds wins the tournament
Rewards:
The winners of the tournament were given the exclusive "Team Blizzy" skin, custom made, and 35k bucks a piece.
Results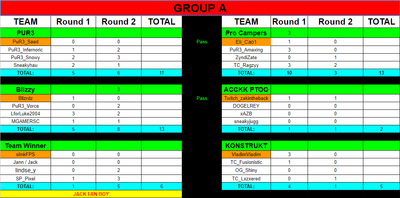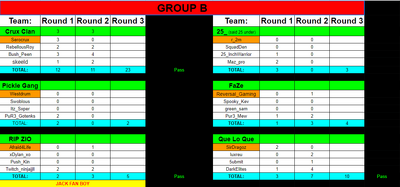 Group A: PuR3 - 11 points (finals); Blizzy - 13 points (finals); Team Winner - 6 points; Pro Campers - 13 points (finals); ACCKK PTOO - 2 points; KONSTRUKT - 5 points;

Group B: Crux Clan - 23 points (finals); Pickle Gang - 2 points; RIP ZIO - 5 points (finals); 25_ - 3 points; FaZe - 4 points; Que Lo Que - 10 points (finals);

Finals: PuR3 - 11 points (3rd); Blizzy - 26 points (1st); Pro Campers - 8 points; Crux Clan - 16 points (2nd); RIP ZIO - 4 points; Que Lo Que - 5 points;
Community content is available under
CC-BY-SA
unless otherwise noted.