Overview
It is a Legendary item.
This item gets you to full Health/Shield.
It works the exact same as the Chug Jug from Fortnite except it takes 8 fewer seconds.
You can stack 1 Guzzle Jug but you can get 2 out of Flamingos in Battle Royale. If someone holding 2 Guzzle Jugs drops them by dying or willingly dropping them you can pick them up together.
The Guzzle Jug has the same inventory design as the Shield Potion except the liquid is orange instead of blue.
It takes 7 seconds to use.
Media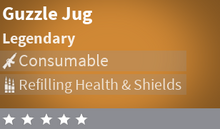 Community content is available under
CC-BY-SA
unless otherwise noted.