Overview
It is the most used
Shield
item since it gives shield the fastest and is very common to find in
Battle Royale
.
Facts and Tips
The Mini Potion is a potion which acts similar to the Shield Potion.
When consumed, it fills your shield by 25%.
It can only reach a maximum of 50%. (Example: If your shield is currently at 30% and you use a Mini Potion, it will only give you 20% shield).
It comes in stacks of three.
It normally stacks up to six, unless you have Mini Potions from a Flamingo (see below).
The Flamingo can drop up to 9 Mini Potions. So, if you open one, it is possible to get a stack of 9.
Media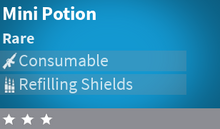 Consumables
Common
Uncommon
Rare

Mini Potion • Shield Potion

Epic
Legendary
Mythic
Community content is available under
CC-BY-SA
unless otherwise noted.