Overview
This item shares similarities towards the Mini Warp Crystal.
The Warp Crystal is an in-game item which when consumed, teleports you up in the sky where you are able to glide away.
The Warp Crystal is an item that was added on February 9th, 2019, alongside the Warp Portal.
The Warp Crystal is effective to use mid-battle when you are on low health.
However, the difference between the Warp Crystal and the Mini Warp Crystal is that it will teleport other players, that are in a 25x25x25 radius, into the sky. It can also teleport people on other parts of Structures.
This item can be found as random drops and in chests.
Its a mythic item.
It takes a full second to activate.
Unlike the Fortnite Rift-To-Go, players are not able to use it and pick up a dropped item.
The Warp Crystal will teleport you higher into the sky than a Mini Warp Crystal.
Media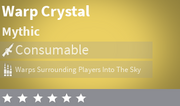 Community content is available under
CC-BY-SA
unless otherwise noted.